Join Liam Creswick, Gregg Beever, and Scott C. Bourgeois as they examine Hollywood's most mediocre movies and attempt to rewrite a better film. How could the Man of Steel be less of a Man of Heel? What could Ghostbusters II have done to make bustin' feel good again? What could have made Star Trek: Generations a film for a…generation? All these answers and more on I HAVE SOME NOTES!
Episodes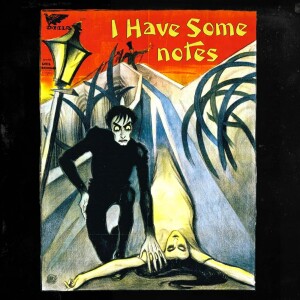 Thursday Nov 02, 2023
Thursday Nov 02, 2023
This week we pitch modern remakes for the O.G. horror flick: The Cabinet of Dr. Caligari. A classic of the Weimar Germany era of expressionist films, Dr. Caligari left an indelible mark on the horror genre with its haunting score, trippy hand-painted lettering and sets, and unique film tinting. I can say with confidence I've never seen a movie like it. You can watch it for free here.
Liam and Gregg propose remakes that are essentially artistic love letters to a classic, while Scott zags in the other direction creating a techno horror/thriller that pays homage to the original.
If you are interested in checking out the short films that inspired Liam's remake, here is a list of links:
The Periwig Maker – Stop motion short from 1999, based on Daniel Defoe's novel A Journal of the Plague Year (1722), narrated by Kenneth Branagh.
Flying Sailor – Canadian short by Wendy Tilby and Amanda Forbis
Behind Closed Doors
Tall Grass

Love Death and Robots - Season 2 Episode 5

Mad God – Directed by Phill Tippet