Join Liam Creswick, Gregg Beever, and Scott C. Bourgeois as they examine Hollywood's most mediocre movies and attempt to rewrite a better film. How could the Man of Steel be less of a Man of Heel? What could Ghostbusters II have done to make bustin' feel good again? What could have made Star Trek: Generations a film for a…generation? All these answers and more on I HAVE SOME NOTES!
Episodes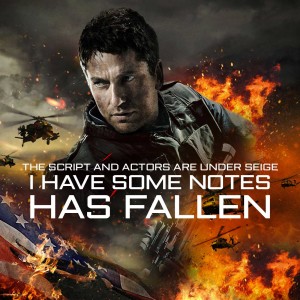 Sunday Jul 07, 2019
Sunday Jul 07, 2019
The White House is being attacked by North Korean terrorists who are setting the monument ablaze. You're probably thinking "good, let it burn", but this script is pre-2016, back when it was occupied by someone worthy of respect and you might have cheered Gerard Butler on save it.
And save it he does, in the blandest, most mind-numbingly average way possible.
But not to worry, Colin, Gregg and Scott hold cabinet positions in the Department of Movie Fixing. We do a White House tear Down and raise the I Have Some Notes flag over top the house we rebuilt in its place.